TRUE TO OUR ROOTS
The five owners all have multi generations in Sooke B.C. and this connection to the local area is linked to everything we do.
We aim to brew beers that can be enjoyed both by those new to craft brewing as well as the most experienced connoisseurs. Our goal is to set the bar higher for great beer in BC while paying homage to the amazing place we call home.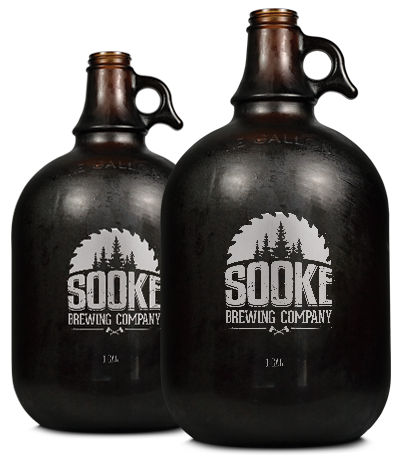 OUR BEERS

Vienna Lager
5% | 20 IBUs
A simple style that highlights smooth maltiness while finishing dry. Light toasty, bread crust-like malt character that comes through on the finish. Refreshing and crisp from the cool fermentation with lager yeast.
Belgian Blonde Ale
6% | 50 IBUs
Pilsner malt lends the light colour and subtle grainy malt character. The Belgian yeast blends with ample amounts of European hops for a floral and herbal flavour and aroma. The dryness and moderately firm bitterness make it refreshing and drinkable.
Oatmeal Stout
4% | 15 IBU's
A dark style of beer made so by the use of unmalted roasted barley. Despite the low alcohol content has a full mouthfeel from the use of oats and crystal malts and displays complex malt flavours of baker's chocolate, dark fruits, raisins and cocoa from the use of specialty malts. Finishes rich and full with a low level of bitterness.
I.P.A.
7% | 70 IBUs
The character of stone-fruits, berries, tropical fruits and pine are all evident from the liberal use of North American hops. Firm and lasting bitterness on the finish satisfies, hides the alcohol and increases the beer's drinkability.
German Pilsner
5% 40 IBUs (Lager)
A European lager with a light body and firm bitterness. The spicy and floral flavour and aroma of European hops is complimented by bread-like notes from the German pilsner malt.
West Coast Belgian IPA
7.5% 60 IBUs (Ale)
A fusion style combining the hops of North America with the yeast of Belgium. Hops that emphasise stone and tropical fruit character (as opposed to flavours like pine, dank, and citrus) are chosen to match the fruity esters that are produced by the Belgian yeast.
Saison
abv and ibus subject to change depending on brew (Ale)
A diverse style that can run the gamut from pale straw to black in colour and practically and abv, saisons are generally distinguished by a spicy yeast character. A historical style from Belgium it was originally brewed in spring to be served to the farm workers during the fall harvest.
Foreign Extra Stout
8% 50 IBUs (Ale)
Historically this very dark beer was brewed in England to a higher abv in order to last the sea voyage to the export market. Flavours of roast, cocoa, and baker's chocolate are noted, and it has a dry finish which keeps an element of drinkability in this rich beer.
Czech Lager
5% 50 IBUs (Lager)
Similar to the German pilsner this beer is characterized by the ingredients of Europe, in particular the distinct Czech saaz hops that give the beer a spicy and floral aroma and flavour. Unlike the German pilsner, its body is more full, it has a deeper colour, and the hops are balanced by the flavour of toasted malts.
Marzen
6% 20 IBUs (Lager)
A German, malt-focused lager, this beer was traditionally brewed for the spring (when brewed in the fall it is known as an Oktoberfest). Being a lager it is refreshing and crisp and it is characterized by toasty, bread crust like malts that are allowed to shine through due to a low level of hop bitterness.
Barleywine
11% 70 IBUs (Ale)
The strongest of the brewing styles, this beer is resinous with the rich malt character of the barley that was 100% grown and malted on Vancouver Island. Its long aging period in bourbon barrels provides bourbon sweetness and notes of vanilla from the oak of the barrels.
Get your SOOKE BREWING CO. gear
We are working on our e-commerce store. 
During this time if you would like to purchase our SOOKE BREWING CO. merchandise
either swing by the brewery or email us below and we'll get you hooked up!

CALL: 250-642-0106
LOCATION
2057 Otter Point Rd, Sooke , BC Canada
HOURS
Sunday to Wednesday – 11 to 10
Thursday to Saturday – 11 to 11
Follow us for updates on progress, contests & free stuff!